Ahlstrom is a highly international company that manufactures innovative fiber-based solutions for industrial needs. One of Ahlstrom's factories is located in Karhula, Finland. The Karhula plant specializes in the production of high-quality fiberglass used mainly as backing material for vinyl-based flooring materials.
No more painfully slow problem solving
"It had bothered me for a long time that it was painfully difficult to access information when problems arose in the process. Something had to be done," explained Juhani Piispa, Engineering & Technology Manager at Ahlstrom, when asked about purchasing Wedge.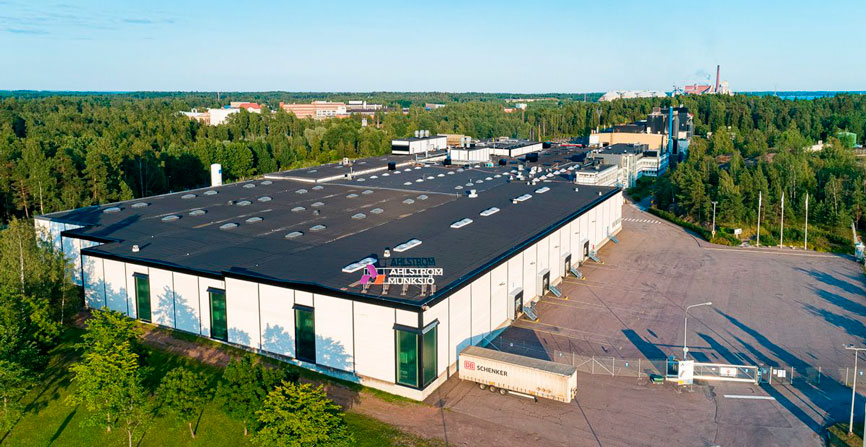 The Karhula factory decided to find out how to speed up process problem solving.  Ahlstrom's Italian and Brazilian factories had long been using Wedge, a solid process analytics tool. It seemed to be the best solution for Karhula's needs as well. 
"Our problem was data sharing. There was a lot of data, but managing it was slow and cumbersome. I wish I had known earlier that such a system existed," says Anssi Kokko, Manufacturing Process Engineer at Karhula's factory, describing the change. 
A smooth roll-out brought quick results
Experiences with Wedge at other Ahlstrom factories and discussions with Trimble demonstrated the benefits and potential of Wedge. In addition, precise calculations were made at Karhula to determine how much savings Wedge would bring, and the figures sealed the decision to purchase.  
Due to the COVID-19 pandemic, the training and orientation sessions were conducted remotely, which did not hinder the process at all. Anssi Kokko:
Trimble's Wedge trainer was top-class! It's great to have someone who really knows what they're doing and what they're talking about! There was not a question that didn't get answered. What a great guy!,"
After three months of piloting, Wedge is now in daily use in both quality assurance and process development. The plan is to extend its use to maintenance, among other things.
"Earlier, it could take days to get to the root cause of a problem and get things running normally again. With Wedge, you can do the same in 15 minutes," says Anssi Kokko, who is delighted that things are running more smoothly. 
Wedge helps find the root causes of production problems faster than before
In quality assurance, Wedge gets a lot of use. "I always check the quality data in the morning. I also do some correlation analysis, which can be used to adjust production together with the machine operators, if necessary,"  Minna Peltola, Quality and Lean Manager, explains how Wedge has made her daily routine easier.

A high-quality end product is the lifeblood of Ahlstrom, and smooth quality management is important. Wedge is considered a handy and quick tool for finding the causes of quality challenges. Minna Peltola explains the benefits of Wedge:
Wedge has all the necessary data in one place, which makes analysis and finding root causes much easier and faster."
Anssi Kokko immediately thinks of one practical example of how quality loss has been effectively reduced with Wedge:
"We were able to reduce edge trim by almost half by using Wedge to see how it should be done. Before we thought of using Wedge for this, we had already spent over 12 hours on it. After the adjustment, the amount of waste from edge trim was halved straight away."
The number one tool for process engineers and quality managers
After a few months of user experience, Minna Peltola and Anssi Kokko have already found their favorite Wedge features.
"The meters offered by Wedge are excellent. The Best correlations button is amazing! It goes a long way, although there are many other things you could easily do with Wedge. It's also easy to combine data and cut out unnecessary time periods."
Both admit that not all Wedge's capabilities have yet been utilized and they have only started exploring the new possibilities Wedge offers for process and quality improvement. When asked about how they would rate Wedge based on their experience so far, however, Anssi Kokko's answer is clear:
A good acquisition! An unbeatable tool for process improvement."
Minna Peltola continues: "We highly recommend Wedge to all process industry operators who have to deal with a lot of data. Process engineers and quality managers, for example, are guaranteed to get their money's worth."
Want to learn more? Contact our sales team